How to walk the Snowdonia coast section of the path by public transport
A practical guide with useful hints and tips by Vivienne Crow
Vivienne Crow is an award-winning freelance outdoor writer and photographer. She has written more than 20 guidebooks including two of the official guides to the Wales Coast Path.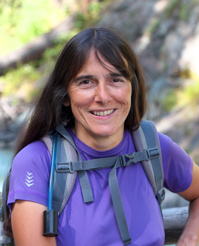 What could be lovelier than jumping on and off trains, watching beautiful scenery rush by through the windows and then enjoying that same landscape at a more leisurely pace by walking it?
That's exactly what my partner Heleyne and I experienced when we completed the 49-mile (79km) section of the Wales Coast Path from Porthmadog to Aberdyfi, mostly along Snowdonia National Park's sublime coastline.
Although we both love the anticipation and sense of 'journey' associated with moving on to new accommodation every night on long-distance trails, we wanted to bring our dog Jess along on this trip – and staying in our campervan would make that a lot easier.
How we did it
We booked pitches at Harlech for the northern half and at Hendre Mynach Caravan Park near Barmouth (Abermaw) for the southern half. Hikers aren't restricted to campsites though; there are also dozens of hotels, guesthouses and self-catering cottages all along this coast. Most are geared up for walkers, offering facilities such as drying rooms should you come in soaked from the rain.
Potentially good bases, other than Harlech and Barmouth, include Porthmadog and Tal-y-bont in the north, and Tywyn and Aberdyfi in the south, each of which has a good range of accommodation types as well as places to eat.     
Leaving our 'van on site each day, we used the trains on the coastal railway to walk linear stretches of the trail. Hopping on and off, seeing the paths we'd just walked through the carriage windows and chatting with other hikers doing a similar thing, became part of the daily adventure.
Jess enjoyed it too – being cute and scruffy, she always captured the hearts of at least two or three of our fellow passengers.   
The Cambrian Coast Railway
This railway follows the smooth curve of the northern part of Cardigan Bay from Pwllheli in the north to Aberystwyth in the south (via Machynlleth). There are a surprisingly large number of stations all along this relatively short stretch of line – 30 in total, including 20 on our section – with trains running every couple of hours.
This allows Wales Coast Path walkers considerable flexibility when deciding how far they want to walk each day. If you get to a station having walked six miles and feel tired, just hop on the train and head back to base. If you get to a station having walked six miles and feel full of energy, there'll be another station three or four miles further on.
Transport for Wales offer a Explore Cambrian day ticket which gives you unlimited travel that day. 
A relaxed approach
Roughly speaking, we alternated days of 12 to 14 miles (19-23km) with shorter walks of between 6 and 9 miles (10-15km).
Our fairly relaxed approach, especially the gentler days, gave us more time for visiting attractions such as the fanciful Italianate village of Portmeirion (no dogs allowed, sadly), the Talyllyn Railway, the world's oldest preserved line and the crag-top ruins of Harlech castle - you can get 2 for 1 entry at Cadw sites when you travel there with Transport for Wales. It also meant we could dawdle on the path, enjoying the views – with Snowdon (Yr Wyddfa) visible on clear days – or watching birds searching for food out on the sandbanks.
Suggested five day itinerary
In Northern Eye Books' guide to Snowdonia & the Ceredigion Coast, I recommend walking the Porthmadog to Machynlleth section of the Wales Coast Path over five days, although the railway makes longer itineraries perfectly feasible. The five sections are:
Porthmadog to Harlech, 11 miles/19km – a day of meandering through woodland and beside tree-fringed estuaries, passing close to Portmeirion along the way. As well as stations at Porthmadog and Harlech, trains also stop at Minffordd, Penrhyndeudraeth, Llandecwyn, Talsarnau and Tŷ Gwyn.
Harlech to Barmouth, 17 miles/27km – a long hike skirting the edge of wildlife-rich wetlands and striding out along huge beaches backed by immense dune systems. On its way between Harlech and Barmouth, the train stops at Llandanwg, Pensarn, Llanbedr, Dyffryn Ardudwy, Tal-y-bont and Llanaber.
Barmouth to Llwyngwril, 8 miles/14km – a shorter day starting with the crossing of the impressive Barmouth Bridge over the mouth of the Afon Mawddach and ending with a high road through an ancient landscape. Morfa Mawddach and Fairbourne (also home to a narrow-gauge heritage line) are the only stations between Barmouth and Llwyngwril.
Llwyngwril to Aberdyfi, 12 miles/19km – a varied hike taking in countryside that's been farmed for centuries, quiet lanes and another long beach walk. If you want to break this slightly longer day, there are stations at Tonfanau and Tywyn.
Aberdyfi to Machynlleth, 12 miles/19km – a lovely day high above the Afon Dyfi with great hill views as the Wales Coast Path briefly heads inland.
With the stations at Aberdyfi and Penhelig (Penhelyg) less than a mile apart, and Cyffordd Dyfi (Dovey Junction) station being on the opposite side of the estuary to the trail, the railway can't be used to break up this section. The X29 bus, on the other hand, makes several stops between Aberdyfi and Machynlleth, including Pennal where the coast path crosses the A493. Buses run regularly Monday to Saturday, but there are fewer services on Sundays.
Beyond Machynlleth
Walkers experience another inland stretch of the trail, enjoying wooded valleys, forest, open hillside and wildlife-rich marshland.
It's 15 miles (24km) from this ancient town back to the coast at Borth. As well as trains linking the two, there are buses (the T2 service) that make it possible to break this long day at Furnace.
Practical considerations
There are a few practical considerations to bear in mind when using the Cambrian Coast Railway to walk the Wales Coast Path. Firstly, many stations are 'request' only. If you want to board a train at one of these, you'll need to give the driver an appropriate hand signal. No one wants to stand on a platform, watch their train approaching and then watch as it just passes by without stopping! Similarly, you'll need to let the conductor know if you want to get off at one of these stations.
It's also worth noting that, although trains run every day, there are fewer on a Sunday, with services starting later in the morning and finishing earlier in the evening.
Bear in mind too that the winter timetable will differ from the summer one. Check the Transport for Wales website for the most up-to-date information. For bus times, try the route planner on the Traveline Cymru site.