Walks to explore the area - Pembrokeshire
Here are a few of our favourites walks and recommendations showing off the best of the Welsh coastline
Strumble Head, Pembrokeshire - Visit Wales
Our highlights
Govan's Chapel: 2016 Year of Adventure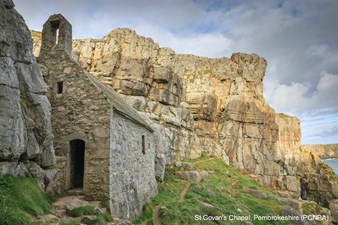 Imagine a tiny chapel big enough for one person built into the rocky cliff that has stood the test of time since the 14th Century. This tiny single chamber chapel made of limestone nestled in the cliffs at St Govan's Head in South Pembrokeshire is a curious little find. 
There are many stories surrounding St Govan, an Irish monk who lived in the 6th century who had links with St David (the patron Saint of Wales) and one of King Arthur's Knights of the Round Table.  According to legend, St Govan was set upon by Irish pirates and sought refuge in the cliff rocks.  The cliff opened up and left a fissure just big enough for him to hide until the pirates left. 
In his gratitude, St Govan stayed here to warn the locals of other impending pirate attacks if they were to return.
He died in 568 and tradition says that his body is buried under the alter in the chapel that bears his name. 
The chapel built many centuries later is situated very close to where St Govan retreated in later years.
Put your adventure cap on and take a walk down the flight of steps to the chapel and you will be rewarded with amazing coastal views. But legend has it that there the number of steps is never the same going down as is it going back up!
Resources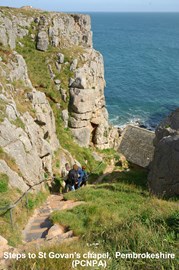 This walk is on the Castlemartin firing range.  It is closed with the range is in use.  For information on live firing times, please phone 01646 662367 (recorded message) or visit online Castlemartin firing range notices
For more information on how to get to the chapel and route description, visit Pembrokeshire Coast National Park website
Find out what else you can do in Pembrokeshire, see the Visit Pembrokeshire website.
Short walks
Abereiddi to Blue Lagoon
300 yards
A wheelchair accessible walk which leads to a stunning view over the Blue Lagoon – a deep, flooded quarry. Find out more about the walk from Abereiddi to Blue Lagoon.
Ceibwr to Pwll y Wrach
Under 1 mile / 1.6 km
Ceibwr Bay was once a busy port serving Moylegrove. Pwll y Wrach – the Witches' Cauldron – is one of the most striking geological features on this stretch of coast – a collapsed cave, formed where the sea has picked out soft, crumbling shale and sandstone along a fault line. Find out more about the walk from Ceibwr to Pwll y Wrach.
Solva
Under 1 mile / 1.6 km
This walk contains some steep gradients. The rocks at the mouth of Solva Harbour make this one of the safest anchorages between Milford Haven and Fishguard. The pretty town is divided into Upper and Lower Solva. Find out more about the Solva walk.
Newport
various
Explore the lovely, mediaeval town of Newport. Set on the Nevern Estuary, with some excellent wheelchair accessible stretches, you can take a gentle stroll and enjoy some wildlife watching along the way. (Bus)
Martin's Haven to Marloes
2 miles / 3.5 km
Explore the Deer Park with its views across Jack Sound to Skomer Island and continue along this dramatic stretch of coast. Sit and watch the waters in the Jack Sound race by and look out for gannets and porpoise. In September and October, this is a great place for spotting seal pups on the beaches below (but remember that these are high cliffs so caution is always advised). A small extension to this walk will take you to the strikingly beautiful Marloes beach. Find out more about the Deer Park to Marloes walk.
Tenby
4.6 miles / 7 km
Take in this bustling, pretty seaside town and its nearby countryside. There are great views out to Caldey Island, home to a religious community since the sixth century. You can take boat trips from Tenby to explore the island. (Bus & Train). Find out more about the Tenby walk.
Long walks
Martin's Haven to Dale
10 miles / 16 km
Fairly easy walking on the level, with the occasional short climb. A walk of contrasts – starting with rugged headland and great coastal views and ending in the wooded shelter of the Milford Haven waterway. Find out more about this walk: Martin's Haven to Dale.
Broad Haven South to Skrinkle Haven




11 miles / 17.7 km
This stunning walk typifies why this coastline is worthy of National Park status. It contains the National Trust's Barafundle beach (voted one of the top ten beaches in the world) and the Lily Ponds at Bosherston. (Bus). Find out more about the walk from Broad Haven South to Skrinkle Haven.
Newport to Fishguard
12 miles / 19.3 km
Some of the hills on this walk are steep, but much of the walk is across cliff top with great views out to sea. Find out more about the walk from Newport to Fishguard walk.
Whitesands to Solva
13 miles / 20.9 km
From the golden sands of Whitesands Bay this walk passes close to St Davids – Britain's smallest city – and ends in the pretty harbour village of Solva. Porpoise can be seen in the waters between the mainland and Ramsey Island so it's worth stopping for a break along this stretch. Find out more about the walk from Whitesands to Solva.
Skrinkle to Amroth
14 miles / 22.5 km
This is a busy section of the path owing to the wonderful beaches and visitor amenities in the Tenby area. It offers superb views of Caldey Island and, on a clear day, across to Exmoor.  Find out more about the walk from Skrinkle to Amroth.