Our Brand
We have developed our brand to promote the Wales Coast Path to both local communities and international tourist markets, whilst making sure you can keep on the right path
Brand Guidelines
Download the latest brand guidelines (PDF, 14.6MB English only). if you wish to use the Wales Coast Path logo for any type of communication.
We grant permission to use the Wales Coast Path logo in line with these guidelines. The logo is protected as an international trademark. We reserve the right to remove permission to use the logo where the guidelines are not followed.
Waymarkers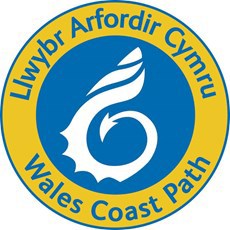 The Wales Coast Path travels the length of the Welsh coastline. Along the way you will encounter new stretches as well as established routes, for example, the Isle of Anglesey Coastal Path and the Pembrokeshire Coast Path National Trail.
To help you find your way, we have created a blue and yellow waymarker with our distinctive "dragon shell" logo.  
Very occasionally you will also see a red and yellow version of the waymarker - this means that this is an official alternative route e.g avoiding high tides or to give an option away from busy roads. 
These can be seen along the whole of the Wales Coast Path and will, at times, sit alongside other route waymarkers. Keep these in sight and you'll know you're on the right track.